CN's 2015 Santa Train (Grand Trunk Western edition)
I was able to catch the train in a relatively unobstructed location, likely the same spot as I did last year.
The very first time I recall seeing this train was almost 9 years ago, way back on December 13, 2006. The train was enroute to Battle Creek, in the consist of a freight train which I believe was waiting for a signal in Granger, Indiana. The shot shows the train, but the lighting wasn't the greatest. From other photos taken from other angles, I know the first three units on the train to be IC 6051, IC 6005 and WC 6005.

The first time I went out specifically to see this train was way back in 2010. The train looked a lot different back then, with a pair of Illinois Central painted E units leading the train, and just three cars in the train, two of which matched the power. We shot the train in two different locations- first as they backed out of the yard and turned the train on the wye on the north side of the yard, then later in Columbus, passing the now torn down elevator.
At the wye:

Approaching the crossing in Columbus:

Passing the elevator: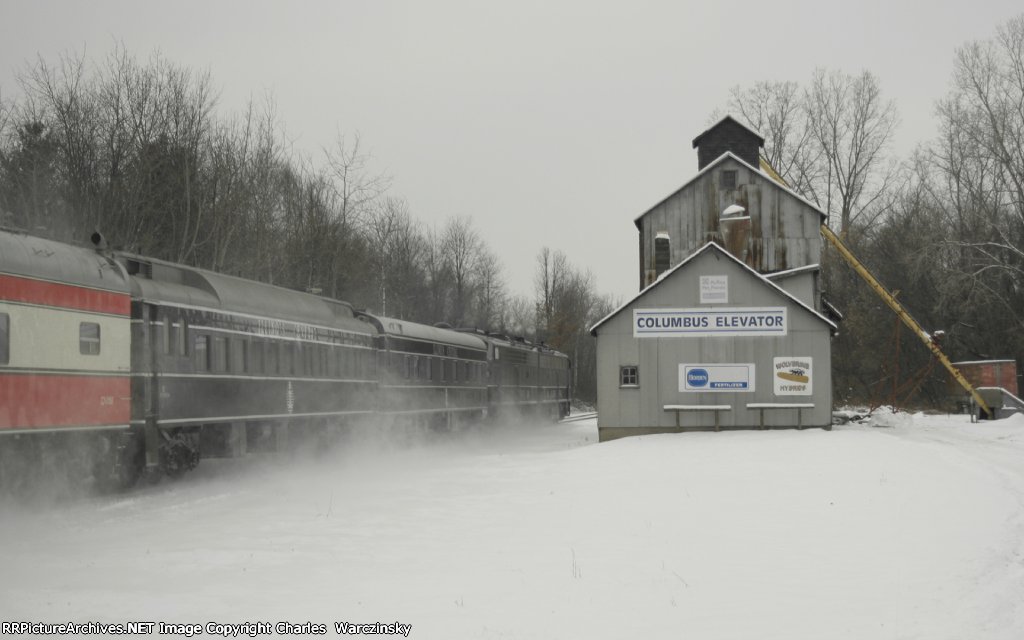 The 2011 edition was quite similar to the 2010 edition.

I suspect I saw photos of the 2012 edition on the internet, and for one reason or another didn't make it out to see the 2012 edition. I can't locate any photos of the train in my files.
The 2013 train had a transitional combination of SD60 and Illinois Central E unit:

This year's train was not so different from the 2014 train, other than the substitution of a GTW GP38-2 for an Illinois Central GP38.